Skip to Content
Let A-1 Well & Pump Handle Your Pump Installation
Getting a new pump installed in your well takes an experienced and knowledgeable team of professionals to ensure safety and reliable function. A-1 Well & Pump has provided professional well and pump services since 2000 to clients throughout Western North Carolina, including pump installation service. We strive to earn your complete satisfaction with courteous customer service, expert installations, and the industry's best brands of water pumps and other system components.
Decades of Well Pump Expertise Working for You
A-1 Well & Pump has been serving commercial and residential clients with their pump installation needs for two decades. We understand the best pumps and practices to ensure you get the best performance out of your system. You can count on us to provide all the following benefits:
Proper Pump Size
The size of your pump system is crucial to meeting your water needs. We properly size well pumps to fit the right output and horsepower requirements and choose a pump depth that ensures a sufficient water reserve. Finding the right size also helps us balance cost and performance and prevent premature pressure tank or well pump failure.
Installation Quality
The installation quality is just as important as the pump quality. You want our professional team to handle every step of it to ensure the process is completed safely and avoid damaging any components. When an installation is done correctly, you get a pump system that runs dependably and efficiently with long-lasting performance.
Proper Pressure Tank Size
You need an adequately-sized pressure tank to support your Well system. Our team takes the Well measurements and other factors into consideration when determining the right tank for a client. We also make sure it meets warranty guidelines and manufacturer specifications.
Protecting Power Supply
We protect your pump's power supply using high-quality, fully insulated electrical wire. This wire gets ground-bonded to Well casing, and we firmly secure it to your well water pipe. Your wiring can chafe and short if you skip these important steps, leading to expensive service and repairs to fix the issue.
Answering Questions
Our team gets asked many questions by clients installing water pumps on their properties. We are fully equipped to answer any inquiries you might have about the pumps, their lifespan, what kind of water pressure you can expect, and many other topics. You deserve the peace of mind to go with your investment in a well water system, and we keep you informed to ensure your comfort and confidence in our services.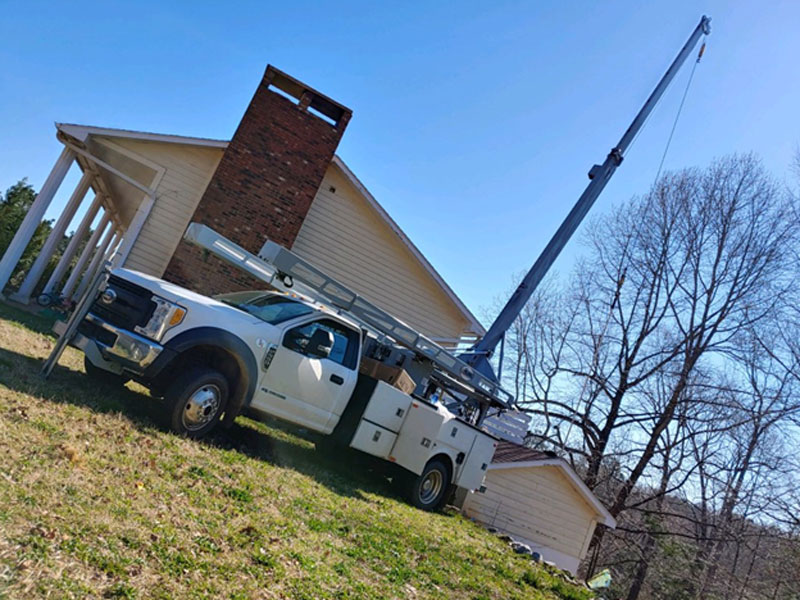 Helping Western North Carolina With Pump Service
A-1 Well & Pump has served commercial and residential clients since 2000 with an in-depth understanding of the importance of pump service. In Western North Carolina, homes and businesses rely on their wells for water to drink, wash, bathe, and cook. We ensure your water pump, well, and the derived water all stay at their best quality with water testing, inspections, and regular maintenance and repairs.
Reasons Your Well and Pump Need Regular Care
Regular maintenance is an essential service your well and pump need to stay in their best condition and provide a steady supply of clean and safe water to your home or business. A-1 Well & Pump has your pump service needs covered with 20 years of expertise in the best parts, brands, and work quality. Make sure you stay current on your well and pump services for all the following reasons:
Adequate Flow
Regularly maintaining your Well means more than checking for mechanical or electrical issues. Maintenance ensures your well does not dry up and keeps the water flow consistent. Testing it annually is especially important if you live in an area experiencing occasional droughts.
Safe and Clean Water
You want to make sure the water coming into your home or business is clean and safe for consumption. Staying on top of regular care, water testing, and inspections checks for and greatly reduces the chance of water contaminants, such as E. coli and coliform. Germs are not the only things you should check for and resolve. Other contaminants like dissolved solids, minerals, and a bad water pH can endanger your water's safety.
Resolve Damage and Avoid Contamination
Inspections and maintenance allow us to find any developing or early-stage issues like damaged or worn components and fix them before they significantly affect your water supply. We check your system for erosion, clogs, collapsed parts, and other issues all-too-common with water systems. Leaks, clogged minerals, and low water levels can reduce your water quality and damage your well's condition.
Prolong Your Pump's Performance
Pumps commonly experience overheating and damage over time, making regular maintenance a crucial part of having a well on your property. A simple clog can damage the parts in your pump and affect its performance and water quality. Let our team perform all the necessary maintenance and care to keep your pump in top working condition and extend its lifespan.
Providing Clean Water to Western North Carolina
A-1 Well & Pump is ready to help you get clean, safe water at your home or business with a professional water pump installation. Contact us today to speak with a team member about your well water needs and schedule a visit.
Get in Touch With A-1 Well & Pump Today
Reach out to A-1 Well & Pump today to take care of your well and pump and keep a clean and steady water supply. We proudly serve our clients with high-quality products and services at reasonable, competitive prices.
Schedule Well & Pump Service at Your Property